Specifications & Review Farmall 460 Technical characteristics, dimensions, weight, power, photos and and publish possibly complete information on specifications, technical data of more than 12 000 tractors and machines. If you choose sort items by model, year, power and factory..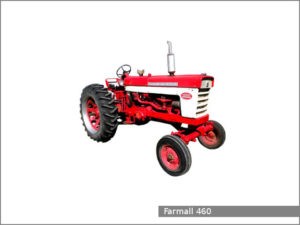 The Farmall 460 is a two-wheel drive (2WD) row-crop tractor, manufactured by International Harvester (IH) between 1958 and 1963. The Farmall 460 tractor is equipped with C-221 6-cylinder gasoline or D-236 diesel-powered engine and sliding gear transmission with 5 forward and 1 reverse gear. This row-crop tractor was the smallest of the six-cylinder tractors in the new line, rated for four plows.
The International Harvester C221 engine operates with gasoline or optional LP (liquefied petroleum) gas. A 90.0 mm (3.54 in) cylinder bore and 94.0 mm (3.7 in) piston stroke give the C221 motor a total of 3.6 L (221 cu-in) of displacement. Compression ratio rating is 7.2:1 for gasoline version, the LP gas version slightly higher at 8.75:1. Both the gasoline and LP gas versions of the C221 engine provide 50 HP (37.3 kW) and 1,800 rpm.
The Farmall 460 has an optional six-cylinder, International Harvester D236 diesel-powered engine with 3.9 L (236 cu-in) of displacement. The D236 engine has a 94.0 mm (3.7 in) of the cylinder bore and 94.0 mm (3.7 in) of piston stroke and providing identical 50 HP (37.3 kW) and 1,800 rpm of the C-221.
The 460 is equipped with a sliding gear transmission. The transmission has 5 forward (2.4-26.7 km/h, 2.6-16.6 mph) and 1 reverse (5.1 km/h, 3.2 mph) gears.
The tractor used power steering and differential mechanical disc brakes. The Farmall 460 has an open operator station.
Farmall 460 Specifications
General Specifications
Model
Farmall 460
Length
3550 mm (140 in.)
Hi-Clear: 3,880 mm (153.0 in.)
Width
2,120-2,660 mm (83.5-105 in.)
Hi-Clear: 2,180 mm (86.0 in.)
Height
1,980 mm (78.0 in.)
Hi-Clear: 2,280 mm (90.0 in.)
Wheelbase
2,410 mm (95.0 in.)
Hi-Clear: 2,254 mm (100.0 in.)
Weight
Gas version: 2,646 kg (5,835 lb)
Diesel version: 2,746 kg (6,055 lb)
Fuel tank capacity
–
Battery
Gas version: 1 x 12 Volts
Diesel version: 2 x 6 Volts
Tires size
Front tires
5.50-16
Hi-Clear: 6.00-20
Rear tires
12.4-38
Hi-Clear: 11-38
Engine C221
Engine model
IH C221
Fuel
Gasoline / LP gas
Displacement
3.6 L (221 cu.in.)
Bore x stroke
90.0 x 94.0 mm (3.54 x 3.7 in)
Power output
50.0 HP (37.3 kW) at 1,800 rpm
Torque
–
Starter type
Electric (12 Volts)
Oil type
–
Oil capacity
–
Coolant capacity
–
Engine D236
Engine model
IH D236
Fuel
Diesel
Displacement
3.9 L (236 cu.in.)
Bore x stroke
94.0 x 94.0 mm (3.7 x 3.7 in)
Power output
50.0 HP (37.3 kW) at 1,800 rpm
Torque
–
Starter type
Electric (12 Volts)
Oil type
–
Oil capacity
8.5 L (9.0 qts)
Coolant capacity
–
Transmission and chassis
Chassis
4×2 2WD
Steering
Power
Transmission type
Sliding gear
Gears
5 forward and 2 reverse
Ground speed
Forward: 2.4-26.7 km/h (2.6-16.6 mph)
Reverse: 5.1 km/h (3.2 mph)
PTO (Power take-off shaft)
PTO Type:
Rear, independent
PTO Speed:
540 rpm
Hydraulic lift
3-point linkage:
IH Fast Hitch
Control system:
–
No. of remote valves:
2
Max lifting capacity (at link end):
–
Hydraulic system
Type:
Closed center
Hydraulic luid capacity:
37.9 L (10 US.gal.)
Hydraulic flow:
45.4 lpm (12 gpm)
Maybe that's all the information about the Farmall 460 tractor specification review that you might be looking for or what you need. If any information is wrong or lacking, please comment below. Thank you