Specifications & Review Honda H5518 Technical characteristics, dimensions, weight, power, photos and and publish possibly complete information on specifications, technical data of more than 12 000 tractors and machines. If you choose sort items by model, year, power and factory..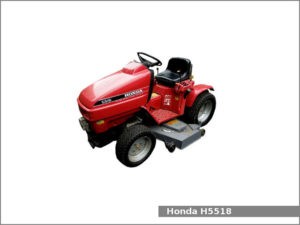 The Honda H5518 is a lawn tractor with small 0.64 l (635 cc, 38.7 cu-in) two-cylinder water-cooled gasoline engine Honda GX640. The Honda H5518 tractor is equipped with selective sliding 8 speeds forward and 4 speeds reverse transmission. The Honda H5518 small tractor was produced from 1991 through 1999.
The Honda GX640 develops 18.0 HP (13.2 kW) at 3,600 rpm and 46.1 Nm (4.7 kg·m, 34.0 ft·lb) of torque at 2,500 rpm. It is a liquid-cooling motor with a 76.0 mm (3.0 in) cylinder bore and a 70.0 mm (2.8 in) stroke, and 8.0:1 compression ratio. The has an OHV design with two valves per cylinder; horizontal type carburetor with a butterfly valve; C.D.I.(Capacitor Discharge Ignition) ignition system, a mechanical centrifugal governor and electric starter.
The Honda H5518 tractor used a mechanical leading-trailing shoe type brakes and pinion-and-sector four-wheel steering. The tactor has 150 mm (5.9 in.) of ground clearance. The Honda H5518 is avalible in two versions:
A4 type – four-wheel drive (4WD);
A2 type – two-wheel drive (2WD)
Honda H5518 specifications
General Specifications
Model
Honda H5518
Length
2,190-2,370 mm (86.2-93.3 in)
Width
1,070-1,125 mm (42.1-44.3 in)
Height
1,235 mm (48.6 in)
Wheel base
1,305 mm (51.4 in.)
Dry weight
457.0-480.0 kg (1,008-1,058 lbs)
Front tires size
20×7.0-12
Front tires pressure
98 kPa (1.0 kg/cm2, 14 psi)
Rear tires size
24.5×8.0-14
Rear tires pressure
79 kPa (0.8 kg/cm2, 11.4 psi)
Fuel tank capacity
9.0 l (2.38 US gal., 1.98 Imp gal.)
Battery
12V-30AH
Engine
Engine model
Honda GX630
Displacement
635 cm3 (38.7 cu-in)
Bore x stroke
76.0 x 70.0 mm (3.0 x 2.8 in.)
Max. horsepower
18.0 HP (13.2 kW) at 3,600 rpm
Max. torque
46.1 Nm (4.7 kg·m, 34.0 ft·lb) at 2,500 rpm
Carburetor
Horizontal type, butterfly valve
Cooling system
Liquid-cooling
Ignition system
CDI ignition
Lubricating system
Forced oil by trochoid pump
Starting system
Electric starter
Stoping system
Cut off the power supply to the CDI (Open)
Fuel used
Unleaded gasoline (octane number 86 or higher)
Spark plug
NGK: BPR5ES-11 NIPPONDENSO: W16EPR-11
Oil type
Honda 4-stroke or an equivalent (SE or SF)
Recommended oil
SAE 10W-40
Oil capacity (without filter changed)
2.0 L (2.11 US qt, 1.76 Imp qt)
Oil capacity (with filter changed)
2.3 L (2.43 US qt, 2.02 Imp qt)
Transmission
Gear type
Selective sliding 8 speeds forward and 4 speeds reverse transmission
Gear selections
8 forward, 4 reverse
Groung speeds
Forward:
1 (L-1): 0.7 km/h (0.4 mph)
2 (H-1): 1.1 km/h (0.7 mph)
3 (L-2): 1.5 km/h (0.9 mph)
4 (H-2): 2.4 km/h (1.5 mph)
5 (L-3): 3.4 km/h (2.1 mph)
6 (H-3): 5.3 km/h (3.3 mph)
7 (L-4): 7.1 km/h (4.4 mph)
8 (H-4): 11.1 km/h (6.9 mph)

Reverse:
1 (L-R1): 0.8 km/h (0.5 mph)
2 (H-R1): 1.4 km/h (0.7 mph)
3 (H-R2): 1.8 km/h (1.1 mph)
4 (H-R2): 2.8 km/h (1.7 mph)

Frame
Brakes
Mechanical leading-trailing shoe type brake (rear wheels)
Steering
Pinion-and-sector four-wheel steering
Hydraulic system
Working pressure
90 kg/cm2 (1,280 psi)
Pump type
Gear pump
Oil capacity
2.0 L (2.1 US. qt)
Maybe that's all the information about the Honda H5518 tractor specification review that you might be looking for or what you need. If any information is wrong or lacking, please comment below. Thank you